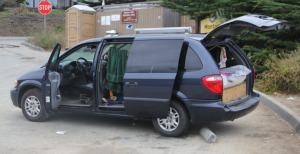 Hier die Liste von Van/Motorhome/Car Rentals für unseren Kalifornien Trip 2014.
Letztlich hatten wir bei http://www.lostcampersusa.com ausgeliehen. War ganz ok nix fancy aber solide und guter Preis. Glaub das waren so 50$ pro Tag..
Mir wurde im Nachhinein gesagt wenn man ein Auto über dtsch. Reisebüro bucht könnte es wegen anderen Steuern & Versicherung billiger sein. Aber unklar ob das stimmt, evtl. mal unverbindlich Anfragen.
Schaut auch mal nach Campingplätzen. Die schönen bei Big sur etc. solltet ihr vor-reservieren. Wild parken/übernachten haben wir 2x gemacht. Es gab kein Problem, aber den Platz zu finden und hoffen dass
keine Polizei kommt war stressig.
VM Bus & kleinere Van Anbieter:
Motorhomes:
The big agencies, El Monte RV and Cruise America, probably don't have anything as small as a VW van
General Info:
Camping Infos:
Tours:
Also on the Coast is beautiful. Up North to Mendocino, Sonoma, Napa (wine country), or South: Big Sur, Carmel, Monterey, Santa Cruz, Capitola, Santa Barbara, Malibu…..and many others North or South.
Fahrräder hatten wir recht günstig über spinlister.com ausgeliehen.
---