So, today it is my last day in Perth. I'm heading off to Brisbane, then Sydney and finally Bangkok.
Yesterday I finished my stay with a nice BBQ with most of my Perth friends at the foreshore of Matilda Bay. (So Australian..) Check out the nice pictures in the gallery: Last Days!
Concering my work in the Lab: it is almost finished! The final (hopefully) stable version of the Submarine Simulator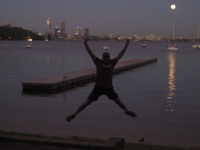 "SubSim" can be found here: http://tobi.o.de1.biz/subsim20win.exe.
I'm excited to see you all soon…
---